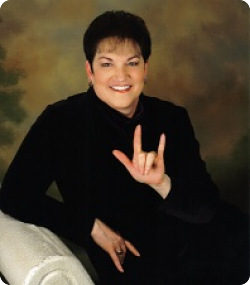 Howdy and welcome to my little corner of the Internet. My name is Paula Dunn and I have worked as a freelance and theatrical interpreter for the Deaf and hard of hearing communities for well over 20 years. If I get too specific, you'll guess my age.
I taught sign language at California State University – Fullerton, University of California – Irvine, Golden West College, Santa Ana College, Cypress College and Disneyland – to name a few.
I helped establish one of the first – if not the first 24-hour on-call interpreter service for hospital emergencies back in 1980. I managed one of the first TTY-relay services before any of the phone companies even considered it.
I taught one- and three-day Deaf Awareness workshops to peace officers throughout the State of California. I worked for the only non-peace officer agency permitted to teach Peace Officer Standards and Training (POST) classes and we had the highest ratings in the state.
I interpreted for the theatres and Comedy Clubs in Los Angeles and Orange Counties for… you guessed it… well over 20 years. I had the pleasure of interpreting at the Segerstrom Center for the Arts (aka Orange County Performing Arts Center), South Coast Repertory, Geffen Theatre, Mark Taper Forum, Ahmanson, Kirk Douglas Theatre, La Mirada Playhouse, Laguna Playhouse, Pasadena Playhouse and numerous smaller theatres. I interpreted for several Improv locations and the Comedy Club in Los Angeles. Did I mention I love my job?
I love the field of interpreting. Each assignment brings a learning opportunity. Please contact me if you need an interpreter in the Coeur d'Alene/Sandpoint/Bonners Ferry area of northern Idaho. You can reach me at (714) 267-2456. You may complete the "Contact Me" page to provide more information. Read on if you'd like to know how I got into this profession.
I grew up in southern Idaho. Helen Keller's story always fascinated me. I read the book The Miracle Worker numerous times and practiced the ABCs. I didn't do anything with it thinking, "Boise would *never* have sign language classes." After all, I'd never seen a deaf person in town so they must not live there.
When I worked as a candy striper (notice that's one "p" not two) at a local hospital, two deaf women came into our small coffee shop. I learned to sign coffee, milk, sandwich. Several months later, my best friend and I took the train to Oregon to go skiing. The same two deaf women were on that train. do do do do, do do do do (Twilight Zone sound). I learned to sign vacation, snow and ski. Still I did nothing about it. Then, years later, after I got married, my husband's cousin had a daughter whom they learned would lose her hearing. The mom scoped out classes and actually found one taught through Easter Seals! She asked me to take it with her and… I've signed ever since. Of course, little did I realize that Manually Coded English (SEE signs essentially) was *not* really sign language.
A couple of years later I heard about a program at CSUN (Cal State University – Northridge) that would last three months and offered a $500 / month stipend to attendees. I called at the last minute – after the application period had closed. I spoke with Mel Carter (wonderful man with a delightful sense of humor and an amazing memory) who accepted my application. I came to California on Christmas Eve and enrolled in the program in January.
I got offered a job from one of the two required three-week internship sites. I dithered about accepting since I'd never lived out of state. After all, this three-month gig was temporary. I finally accepted and said I would only stay for a year. Yeah, right. I stayed far longer than I ever intended!
I have since moved back to Idaho – northern Idaho this time. Beautiful scenery and wild animals abound. If you want an interpreter in the Coeur d'Alene, Sandpoint or Bonners Ferry area, I'm your gal.
In a nutshell, that's my story. Obviously I had to unlearn my MCE and work on getting more ASL type skills. Still learning to this day and loving every minute of it.
Here is a short list of the some of the wonderful people / groups for whom I've had the opportunity to interpret.
Bill Clinton
Hinton Battle (Broadway)
Brett Butler (comedianne)
Chubby Checker
Margaret Cho (comedianne)
Jim Cogan
Stephen Covey
Laura Dern
Sam Fedele (comedian)
Diane Ferlatte (story teller)
Diane Ford (comedianne)
Jeff Garcia (comedian)
Bruce Gary (The Knack)
Wynonna Judd
Laura Kightlinger (comedianne)
Bobby Kimball (Toto)
Denny Laine (Moody Blues & Wings)
Jack Lemmon
Angela Lloyd (story teller)
Art Metrano
Randy Miesner (The Eagles)
Bill Gates
David Gates (Bread)
Leeza Gibbons
Whoopi Goldberg
Anthony Griffith (comedian)
Robert David Hall
Lily Tomlin
Alan Blumenfeld
David Gonzalez
Kasey Mahaffy
Caralyn Kozlowski
Michelle Duffy
Rebecca Mozo
Arye Gross
Nick Ullett
Daniel Blinkoff
Ann Marie Lee
Joe Sears
Timothy Landfield
Peter Katona
Kimberly Scott
Lori Larsen
Petula Clark
Michael Newcomer
Matt McGrath
Marin Ireland
Shannon Holt
Patrick Kerr
Marin Hinkle
Richard Doyle
Carl Reiner
Margaret Smith (comedian)
Weird Al Yankovich
Mariette Hartley
Bea Arthur
David Copperfield
Linda Eder (singer)
Jamie-Lynn Sigler
Sesame St. Live
Natalie Toro
Leslie Uggams
Rachel York
Maya Angelou
Zina Bethune
Dan Bradley (comedian)
Kathy Buckley (comedianne)
Bobby Slayton (comedian)
Freddy Soto (comedian)
Alan Thicke (actor)
Izzy Tooinsky (story teller)
Bree Walker-Lampley (TV anchor)
Josh Wolf (comedian)
William Allen Young (actor)
Mark Yuzuik (hypnotist)
Daphne Zuniga
Thomas Monroe Hensley (comedian)
Davy Jones (The Monkees)
Bill Cosby
Bill Brochtrup
Cynthia Harris
Kevin Rahm
Conor O'Farrell
Amy Aquino
Jennifer Parsons
Kristen Potter
Matt Letscher
Patty LuPone
Reg Rogers
T. Scott Cunningham
Melody Butiu
Nike Doukas
Lorenzo Pisoni
Nancy Bell
Karen Hensel
Kristen Bush
Jenny O'Hara
Mary Gordon Murray
Harry Groener
Dana Reeve
Mark Jacoby
Tony Amendola
Ann-Margret
Estelle Getty
Marilu Henner
Ertha Kitt
Diane Krall
Michael Learned
Betty Mahmoody
Camryn Manheim
Rue McClanahan
Parachute Express
Chita Rivera
Riverdance
Sara Purcell
Brian Regan (comedian)
Linda Ronstad
Nick St. Nicholas (Steppenwolf)
Jerry Seinfeld (comedian)
Stan Sellers (comedian)
Rondell Sheridan (comedian)
Bobby Sherman (singer)
Peter Noone (Herman's Hermits)
Bobby Norfolk (story teller)
Marie Osmond
Paula Poundstone (comedianne)
Michael Monarch (Steppenwolf)
Haley Mills
Bill Harley (story teller)
Niki Scalera
The Pointer Sisters
Linda Gehringer
Kaleo Griffith
Matthew Arkin
Caroline Lagerfelt
Andrew Borba
Dan Zanes & Friends
Jaston Williams
Adam Arkin
Dan Callaway
Hal Landon, Jr.
Joan McMurtrey
Amelia White
Graham Michael Hamilton
John Vickery
Art Koustik
Lenny Von Dohlen
Margaret Welsh
Christina Pickles
Gregory Itzin
James Joseph O'Neil

Some of the Broadway Shows I've interpreted:
Aida
Ain't Misbehavin'
All Shook Up
Annie
Annie Get Your Gun
Avenue Q
Beauty and the Beast
Best Little Whorehouse in Texas
Big
Bombay Dreams
Book of Mormon
The Boyfriend
Bring in Da Noise, Bring in Da Funk
Blood Brothers
Bullets Over Broadway
Busker's Alley
Cabaret
Carousel
Cats
Chicago
Chitty Chitty Bang Bang
Chorus Line
Cinderella
Civil War
Color Purple
Contact
Dirty Dancing
Dirty Rotten Scoundrels
Doctor Doolittle
Evita
Fame, the Musical
42nd Street
Footloose
Fosse
Full Monty
Guys and Dolls
Hairspray
Hello Dolly
High School Musical
How to Succeed in Business
If Then
Illusionists
Jekyll & Hyde
Jelly's Last Jam
Jesus Christ Superstar
Joseph & the Amazing Technicolor Dreamcoat
The King and I
Kiss of the Spider Woman
Legally Blond
Les Miserables
Light in the Piazza
Lion King
Little Shop of Horrors
Little Women
Mama Mia
Man of La Mancha
Miss Saigon
Motown the Musical
Movin' Out
Music Man
My Fair Lady
Newsies
Nice Work if You Can Get It
Oliver
Oklahoma
Phantom of the Opera
Producers
Ragtime
Rat Pack – Live at the Sands
Rent
Saturday Night Fever
Scarlet Pimpernel
Seussical the Musical
Showboat
Smokey Joe's Café
Sound of Music
South Pacific
Spamalot
Spring Awakening
Starlight Express
Sunset Blvd.
Swing
Titanic
Thoroughly Modern Millie
Urinetown
Victor/Victoria
Wicked